I'm sure if you're a nutritionist, dietitian, personal trainer, sport scientist or a student of these careers (or similar professions in the health industry), then you have probably felt the pressure to look, eat and act a certain way, perhaps more-so than the average person.  I have definitely felt it myself and here's just a little insight into why these careers can be more challenging than you think.
1. The pressure to eat the perfect diet
This has to be top of the list.  It is extremely often that nutritionists/dietitians feel pressure to lead by example when it comes to diet: whilst I believe that we should practice what we preach and that nutritionists will mostly have a pretty healthy and balanced diet anyway due to personal interest, this can often be taken to extremes.  Knowing so much about nutrition, food, exercise, health and disease can often be confusing and conflicting when it comes to our own diet.  As a result, those that work and study in this area tend to be at greater risk of eating disorders and disordered eating.
But let's get one thing straight: there is no perfect diet; no one size fits all; no way to do nutrition 'right'.  Our diets very much depend on our health, medical history, goals, lifestyle, culture, economy and personal preference, amongst many other factors.  I have often been called out for eating chocolate, cake, pizza, etc, and let me tell you, it's embarrassing and belittling and completely uncalled for.  Just because I am a nutrition student, does that condemn me to a life of purely "healthy" foods, with no room for less nutrient-dense foods?  Absolutely not.
Health also isn't skin-deep.  Just because someone is lean it does not mean they are healthy: especially for women, for whom leanness often indicates the complete opposite.  Likewise, being "overweight" or not having visible muscles, for example, does not mean someone is unhealthy.  Health looks different on everyone. And don't forget that health encompasses both physical and mental health.
No-one should be judged for what they eat, whether that's being put on a pedestal for eating completely "healthy" or being criticised for choosing to indulge.  Food should have no moral attached it and as I always say, there are no intrinsically healthy or unhealthy foods and everything has it's place within your diet if you want to eat it.
2. The pressure to look a certain way
Very much linked to my last point, along with a perfect diet must come the perfect body; the thin ideal.  Some people can feel scepticle about trusting a nutritionist who isn't lean.  Have you ever heard someone say or insinuate that they "wouldn't trust a fat dietitian"?  I have, many a time.  And just ask yourself, honestly, if you have ever felt the same?  In theory you would probably say no, but deep down if you were in the position where you required a nutritionist/dietitian/personal trainer, you would probably also choose someone that looks a certain way (or perhaps avoid someone that looks a certain way).
But that is utterly ridiculous when you think about it.  Someone's own body shape does not determine their knowledge or passion or experience in a subject area.  Body shape is largely determined by genetics and experience, alongside lifestyle.  Body shape does not determine someone's character or skill and shouldn't be judged before getting to know someone and their professionalism.
There have been many times when I have felt "too fat" to be a nutritionist, but we must remember that what constitutes a "fat" person is all relative anyway.  We need to all get off our high horses and stop judging others for their exterior, and trusting them for their skill, knowledge and experience.
3. The pressure to know everything about nutrition
And lastly, there is a massive pressure to know everything.  I often get asked nutrition-related questions and a lot of the time, I can't give a definitive answer!  Firstly, I know that I'm still a student, so there is a hell of a lot still to learn.  But even after graduating, there is still so much to find out.  Nutrition is an extremely complex science (which most people fail to understand): it isn't just knowing about calories in vs calories out and you're sorted.  It's a very grey science and there are hardly ever any black or white answers.  It's also very individual and depends on many other factors in the context of certain situations and the individual's diet.
There are also SO many different areas in nutrition – from infant and elderly nutrition, to sports and performance nutrition, to intuitive eating, eating disorders and chronic disease nutrition (and that is only scratching the surface!).  So don't expect a nutritionist to know everything about nutrition, as most tend to specialise in one area or another.
We also don't know everything about every single food in the world, as nutrition is much more than the study of food, looking at all sorts of other things from the cellular level of physiology up to the psychology behind why and how we eat.  So if you're going to ask me what the benefits of some obscure, unheard-of berries from Fiji are, don't bother!
I doubt there are many people in the nutrition world that would call themselves an "expert" because there is simply too much to learn, and we are still learning.  Have you ever heard of the Dunning-Kruger effect?  Illustrated below (taken from @therootedproject), it shows how many unqualified bloggers are self-confessed experts, when really they haven't even scratched the surface!  It also shows that as you actually start to learn the science of nutrition and continue to learn, you realise you know very very little!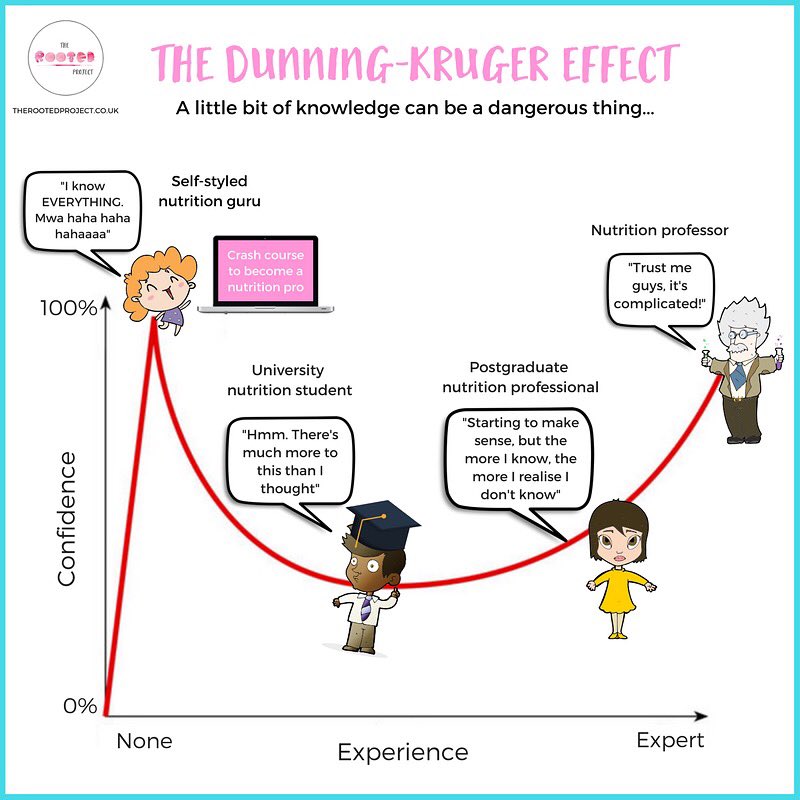 So, don't judge a nutritionist/dietitian for not knowing it all and not knowing the answer to your specific questions.  Instead, have more respect for those that know the limits of their knowledge and instead signpost you to someone or other resources that know more about a specific area!
This post isn't meant to put anyone off these careers – the benefits far outweigh any negatives when it comes to this area of work and I am extremely lucky to be doing something I love.  But I hope from this blog post you can see that there is a lot more to being a Nutritionist/Dietitian than knowing a little bit about food.  There are so many external pressures that can make it that extra bit difficult to be accepted in your job and we often get criticised a lot!  So next time, think before you judge a Nutritionist's diet, appearance or way of practice!
Lou x